Taylor
TAYLOR IS A QUEER FASHION MAGAZINE STARTED DURING MY SENIOR YEAR AT MICA. IT OFFERS A COMPREHENSIVE GUIDE TO STYLING FOR THE DAPPER, WHILE DISCUSSING QUEERNESS AND CELEBRATING FEMMEHOOD.
TAYLOR IS A COLLABORATIVE PROJECT AMONGST MICA STUDENTS AND FREE TO READ AND SHARE!
Taylor is a queer fashion magazine started during my senior year at MICA. It offers a comprehensive guide to styling for the dapper, while discussing queerness and celebrating femmehood.
Taylor is a collaborative project amongst MICA students and free to read and share!
Feel free to contact me if you would like a physical copy!
The Magazine
Front of Book
Details
The Next Strut in the Peacock Revolution
Photographed by Scott Bradley, Accessories provided by Knot by Tiffa.
In this section, I interviewed Tiffany Rogers, a Baltimore based menswear accessories designer about her passion for patterns, bow ties and how she started Knot by Tiffa.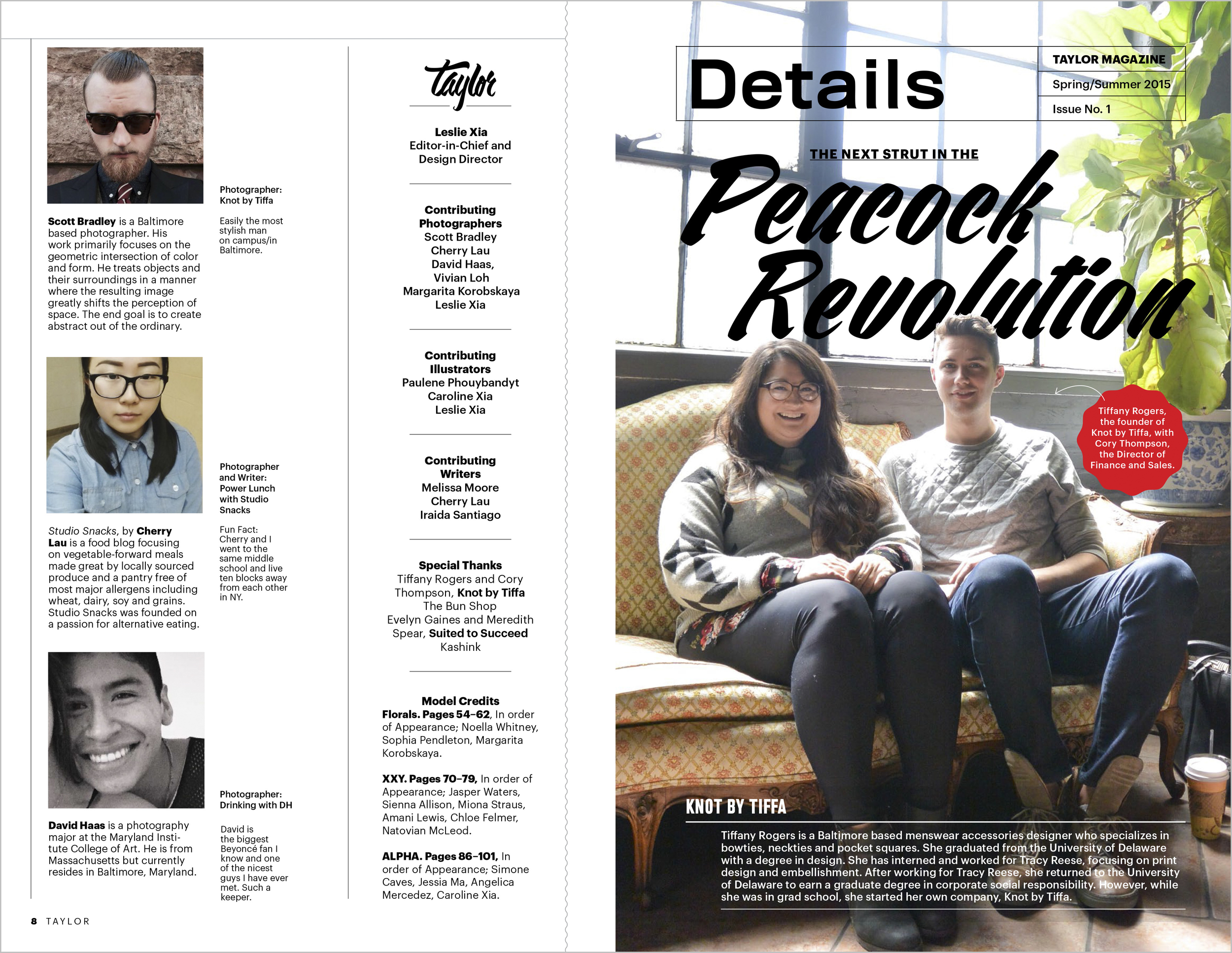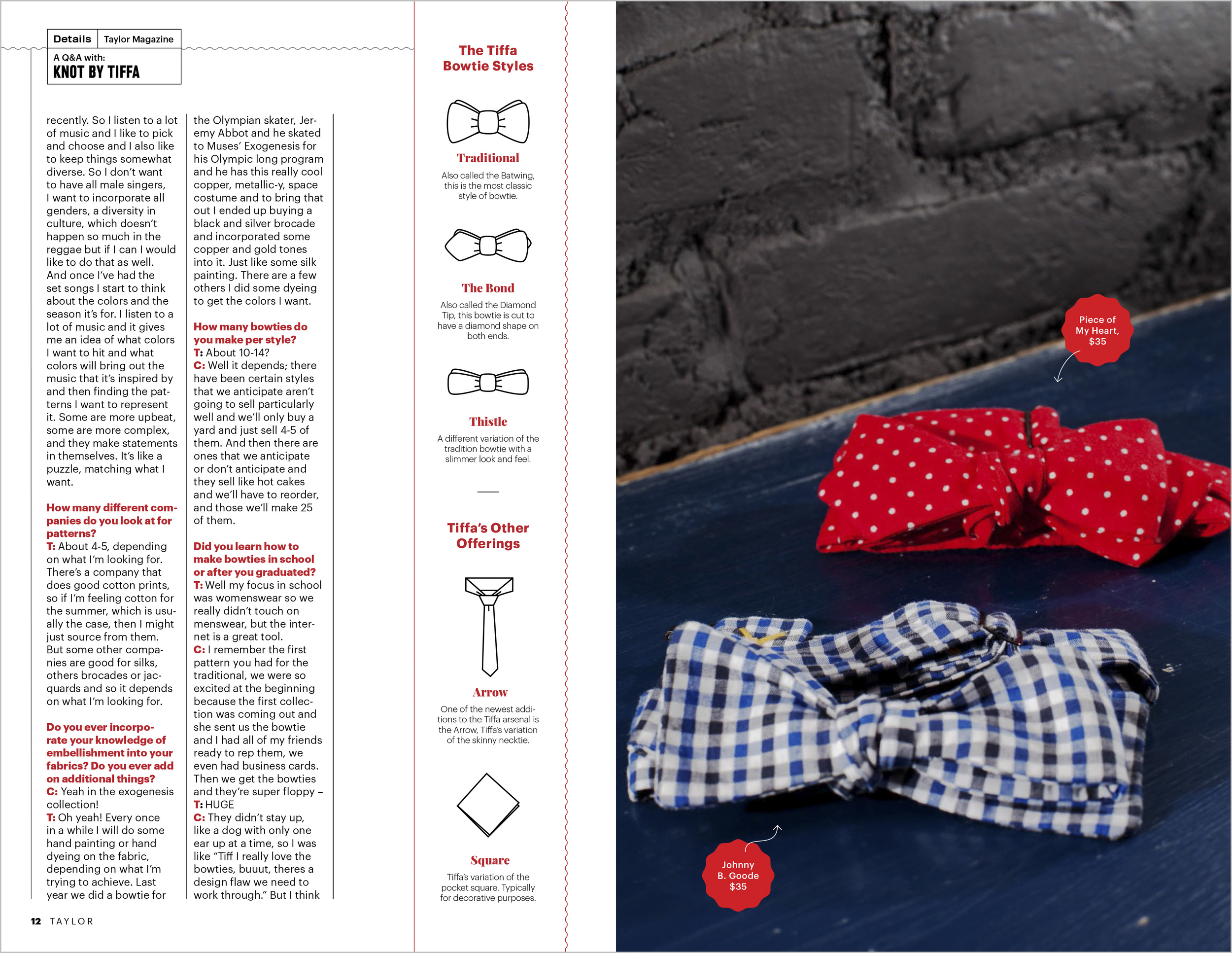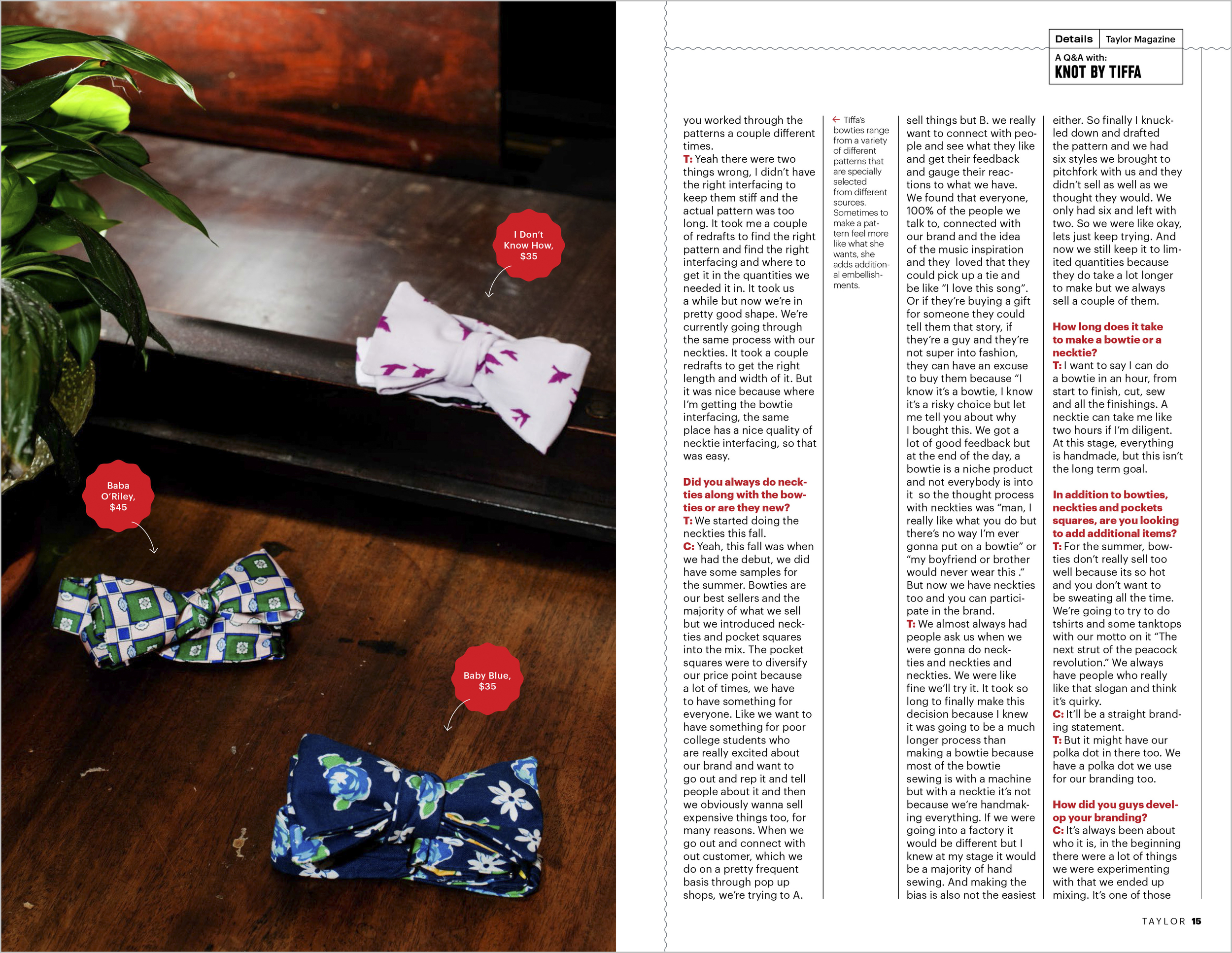 Power Lunch
With Studio Snacks
Photographed, Prepared, Styled and Written by Cherry Lau
Power Lunch is the food section that provides a recipe for a quick meal that can be prepped, prepared and packed for lunch.
Drinking
With DH
Photographed, Prepared and Styled by David Haas. Written by David Haas and Leslie Xia.
In this section, we aim to break the stigma behind "girly drinks" and use the opportunity to talk about different aspects of drink prep, etiquette and recommendations.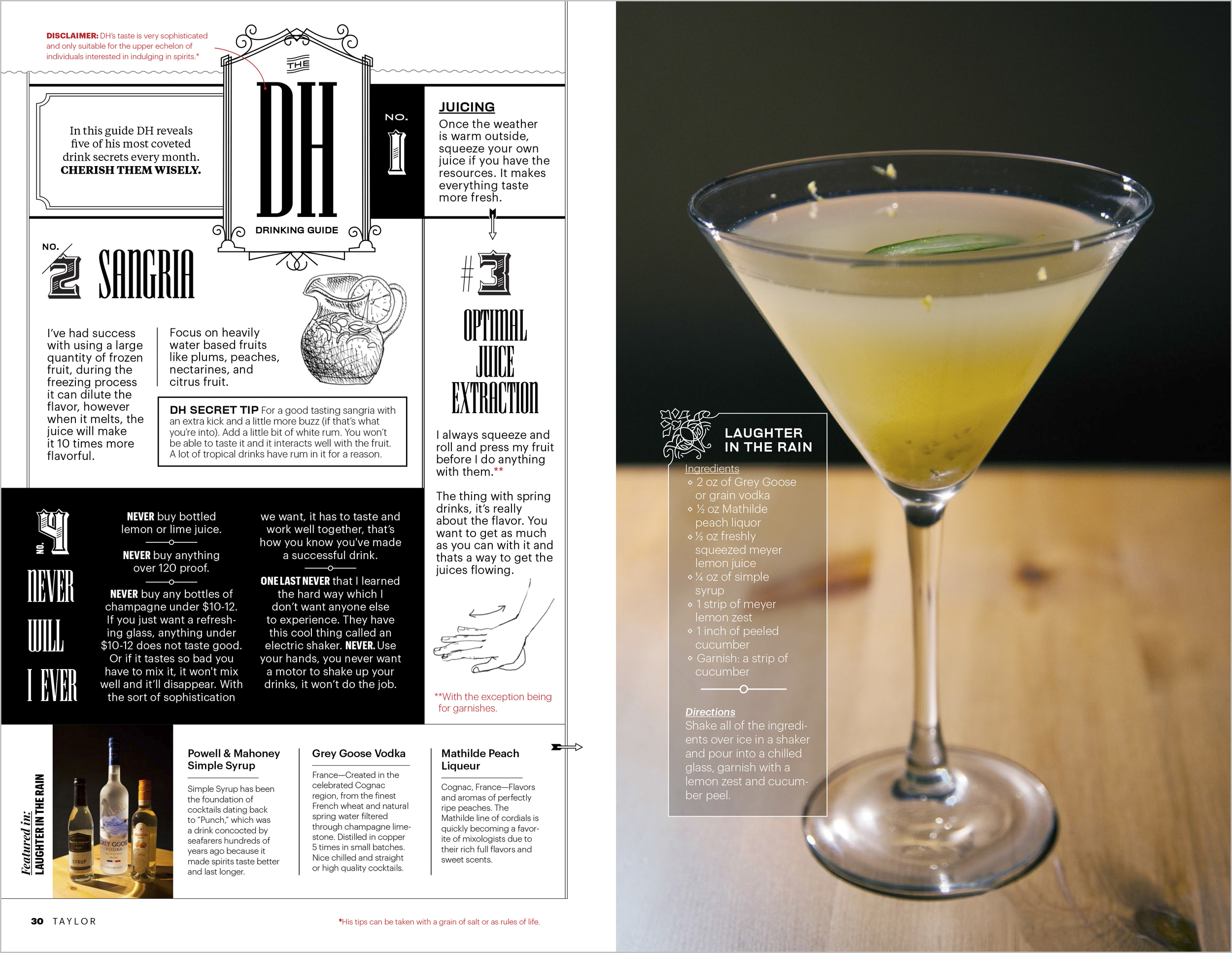 Queer
An Essay by Ira.
Photographed by Vivian Loh.
KASHINK
Photographed by Kristen Lengel. Interview by Leslie Xia.
I had the opportunity to meet and have an intimate conversation with street artist, Kashink, in Paris and photograph her with her work.
Hanami
Photographed by Margarita Korobskaya. Styled by Leslie Xia. Poem by Rupi Kaur.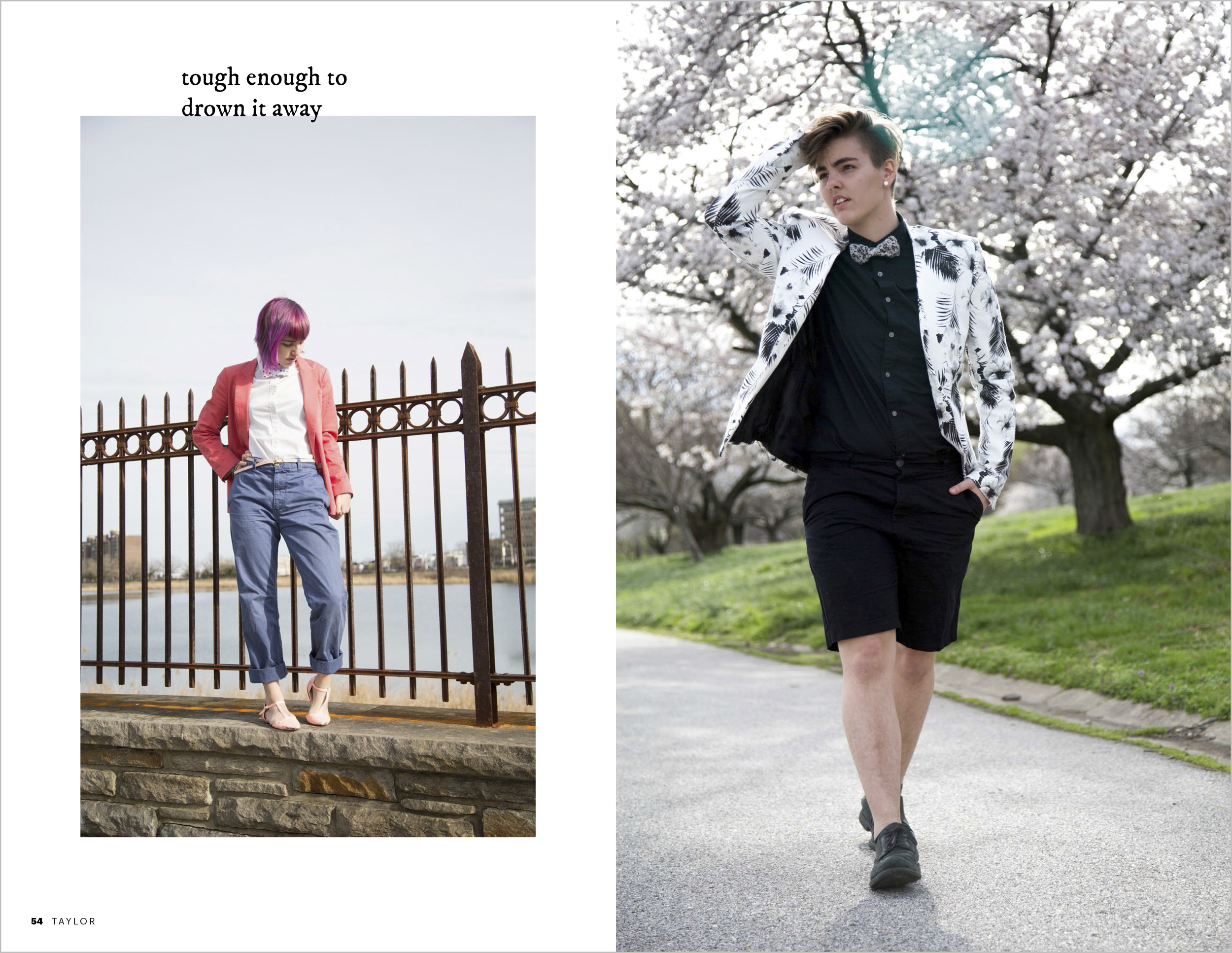 XXY
Photographed by Vivian Loh. Clothing designed and made by Leslie Xia and Hennie Yeh.
Alpha
Photographed by Kristen Lengel. Styling by Leslie Xia.
TAYLOR'S STYLING DICTIONARY
A comprehensive dictionary to all the men's fashion and styling terms anyone needs to know.